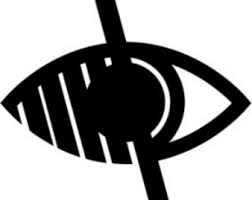 Art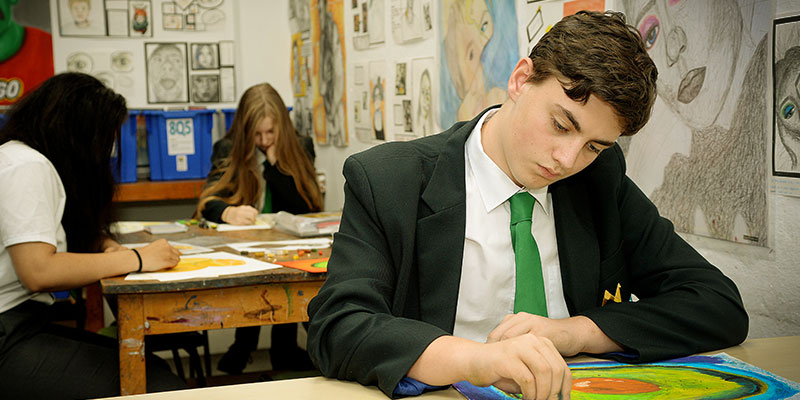 The Art and Design Department has four teachers and a Technician. The department is led by Ms V Thompson, who is Head of Art & Design. Mrs H Gordon and Mrs L Cook, who are our Fine Art Specialists, along with Mrs K Douglas who is our specialist in Illustration and Photography. The department is extremely well supported by Miss K Thorpe our Art & Design Technician. All our staff are experienced and enthusiastic practitioners with a wide range of interests and knowledge in Art and Design.
Art & Design is a highly popular subject that provides students with opportunities to explore their creativity and to develop important skills. All students will study Art & Design at KS3 and it is an option at KS4 & KS5.
In 2020 the Art Department achieved a VA figure of +0.1.87 at KS5 and a progress figure of +0.35 at KS4), both of which are significantly above National Average and testimony to the hard work of both students and staff.
Art Department
Year 6 Transition
In Art & Design we create tasks that incorporate group activities, such as icebreakers, team building activities, and energizers. This helps students make new friends, grow in confidence and feel like they belong, whilst at the same time producing some fantastic art.
Key stage 3
Programme of Study
The KS3 Art & Design Course provides the foundation for GCSE and A-Level Courses. The emphasis is on the acquisition and development of skills in a variety of areas e.g. drawing, painting, printmaking, textiles and sculpture.
The Learning Journey
Pupils learn to understand and put into practice the basic elements of line, tone, colour, pattern, texture and form alongside experimenting with a wide variety of media.
The course puts the pupils' work in a broad historical, critical, environmental and global context. A critical language is developed to enable the pupil to appraise their own work and the work of others. Each pupil is encouraged to develop a responsible attitude to the room, the materials, the work and other pupils.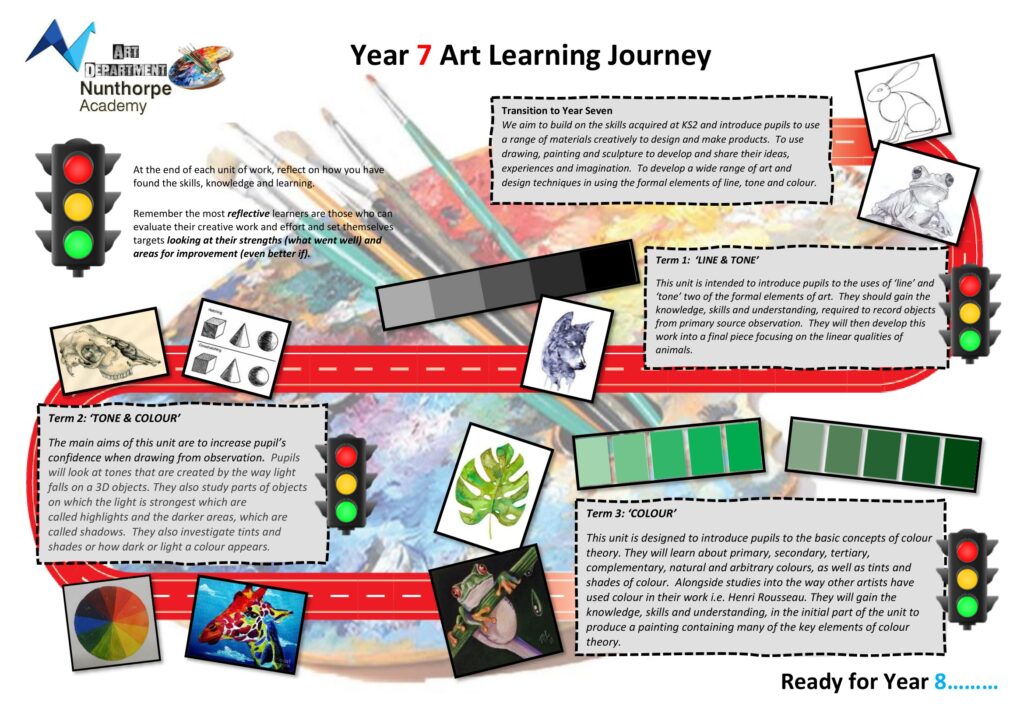 How are you going to be assessed?
You will be awarded a 1-9 grade throughout KS3 & KS4 to keep in line with the new GCSE grading criteria. Your grade is based on your performance throughout a project, plus RAG rating for effort, attitude and homework.
Homework
Students are expected to regularly choose homework from one of our specially designed homework menus. They need to build up a minimum of 30 points throughout the year.
Year 7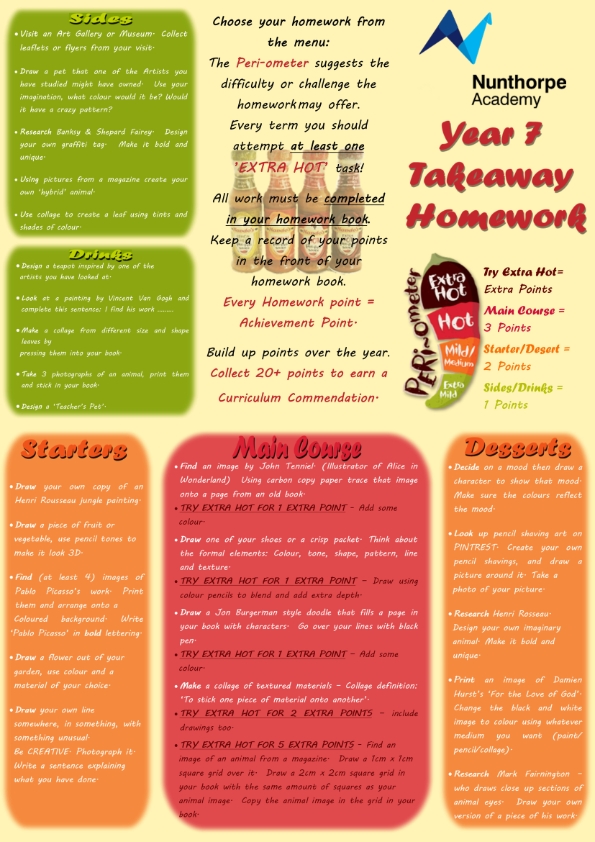 Download this as a PDF file here:
Year 8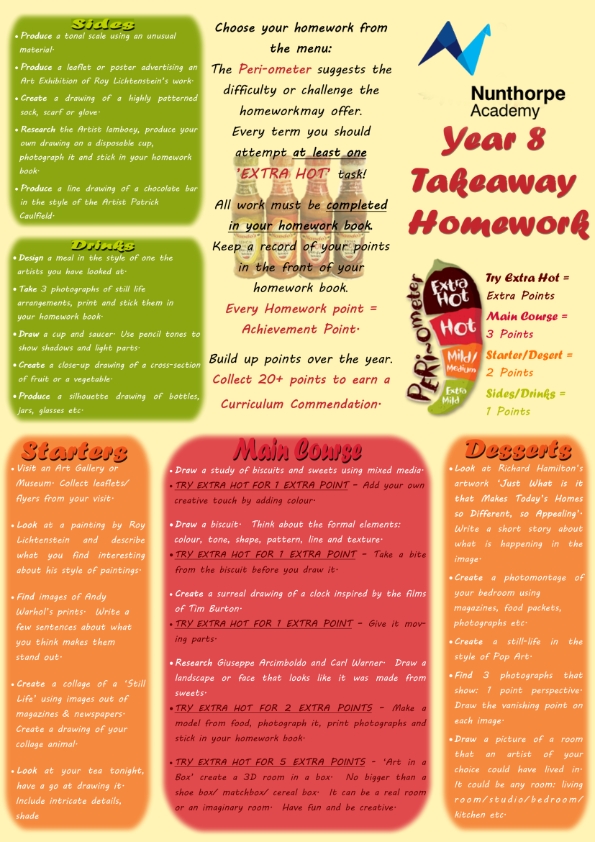 Download this as a PDF file here:
Year 9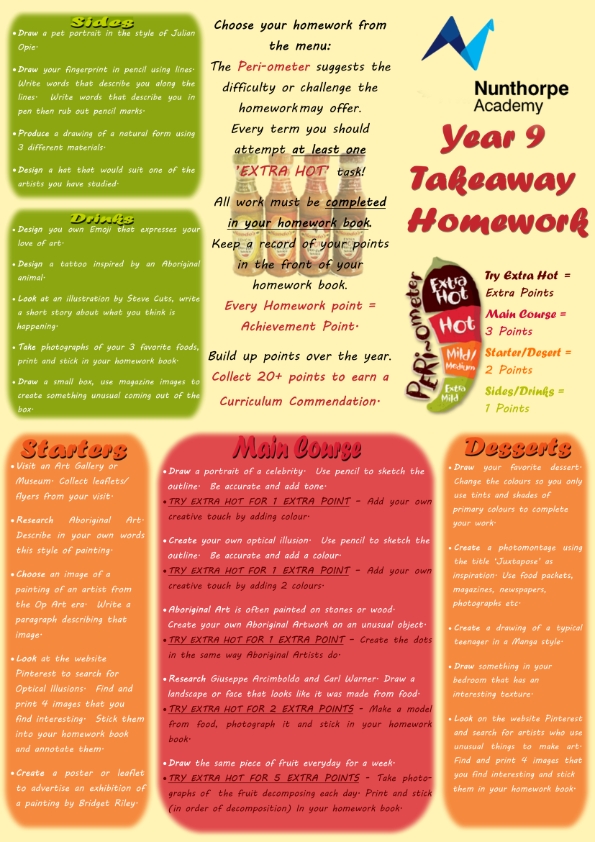 Download this as a PDF file here:
Key stage 4
Programme of Study
We currently offer GCSE Art & Design (AQA) which gives students the opportunity to study the areas of Drawing, Painting, Mixed Media, and Printmaking.
All courses will include practical and critical/contextual work. Students will work in areas of drawing, painting, and printmaking. The course will build on the work done in KS3 and will be a culmination of five years of Art and Design education. The course is suitable for a wide variety of students, including gifted artists, those wishing to balance academic and practical subjects and those who simply enjoy Art and are willing to work hard.
The Learning Journey
The Art & Design option is a broad-based course where you will work in a wide variety of materials.
Using the work you have created during the course, you will need to present a 'portfolio' of your best work for formal assessment. This work will be worth 60% of your final grade.
The remainder of your marks at GCSE (40%) comes from your 'Externally Set Task'. This is a project set by AQA your examination board. You'll have time to create a body of preparatory work in a sketchbook before spending 10 hours on a final piece.
How are you going to be assessed?
Both your Portfolio and Externally Set Task will be marked in the same way, using four Assessment Objectives.
Assessment Objective 1: Developing ideas – AO1 is about developing ideas from a starting point to a final piece. This is done through thinking maps, sketches and studies related to the work of other artists, designers and craftspeople. You need to analyze and understand these contextual sources, and develop your ideas in a personal way.
Assessment Objective 2: Using resources, media and materials – AO2 is about refining your ideas through selecting and experimenting with appropriate resources, media, materials, techniques and processes. There are various ways of using these to develop ideas and create a personal response.
Assessment Objective 3: Recording ideas and observations – AO3 is about recording your ideas, observations and insights, which can be in visual, written and other forms. You should work from a range of experiences and stimulus materials, as each of these could lead you to different ways of developing your ideas. You should reflect upon your work, and consider what you have achieved at each stage and what you will do next.
Assessment Objective 4: Making a personal, informed, and meaningful response – AO4 is about presenting a personal, informed and meaningful response, from your initial research through to the final piece. You need to demonstrate analytical and critical understanding as you respond to your theme.
Will I get homework?
You will be expected to do one piece of homework each week which will be related to the work you have been covering in class.
Which set will I be in for Art?
All Art classes at GCSE are carried out in mixed ability sets. The class you are placed into will depend on your other options, not your ability.
Key stage 5
Programme of Study
We currently offer A-Level Art & Design (AQA) which gives students the opportunity to study the areas of Drawing, Painting, Mixed Media, and Printmaking.
To study this course you would be expected to have achieved at least a grade B at GCSE. However, if students have not reached this level and can demonstrate by portfolio that they have the potential to cope with A-Level work, they will be given a probationary period on the course to prove their abilities.
This course is primarily an Art & Design based course that encompasses every aspect of expressive drawing and design. Opportunities will be given to study drawing and painting, which is essential for developing the visual and practical skills needed by Art students. Students are expected to have a mature and independent approach to their work and should be capable of personal research through drawings, designs, and critical analysis. Knowledge of the work of other artists is developed through critical and contextual studies, which is integrated as part of practical work. There will also be opportunities to develop Art & Design ideas through new media, such as Photoshop CS5.
The Learning Journey
Projects can be tailored to meet student creative requirements. Students will be taught all aspects of: Expressive drawing, creative design skills, critical analysis and thinking skills. There are also art trips each year to visit art galleries and events to support portfolio work, as well as regular gallery visits in the local area.
How are you going to be assessed?
There will be 2 units of work each year. Projects are continually assessed by the teacher. One major project is a requirement. This could be split into smaller projects revolving around a similar theme. One exam unit is set by the examination board. All work is assessed and graded by the teacher initially and is then moderated towards the end of the year by an outside examiner.
There are also art trips each year to visit art galleries and events to support coursework, as well as regular gallery visits in the local area.
Complementary Subjects
Art and Design (Textiles), English Literature, History, Religious Studies, ICT, Business, French, German, and Theatre Studies.
Higher Education Opportunities
Students often progress to art foundation courses and then degree courses, although many apply directly for degrees and specialize in many areas from graphics to sculpture and history of art.
Job Prospects
In the past 20 years the creative industries worldwide have created more jobs and revenue than any other. Many establishments now look for creative individuals who have that independent and inquisitive nature that make the difference. We instill that in all of our art students and find that they are well equipped for university and all aspects of their professional life.